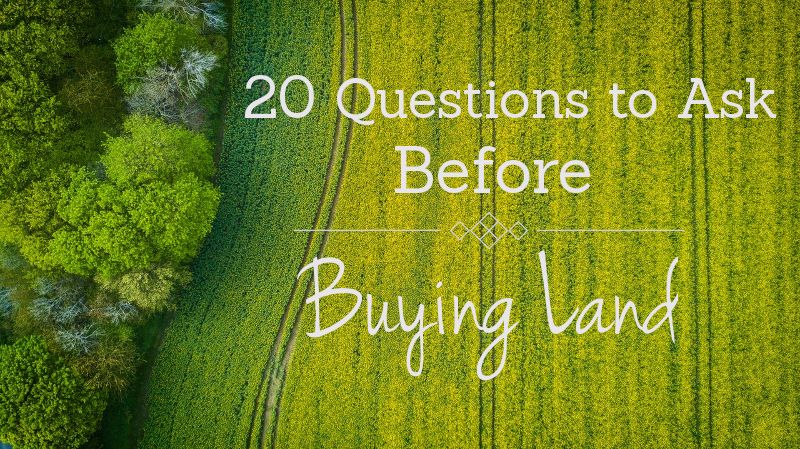 When you're getting ready to purchase land, it can be easy to think of potential properties as a blank slate. After all, you probably have plans and ideas for the acreage you're getting ready to buy, whether it's to build a home, farming, hunting, commercial use, or some other kind of recreation.
But the land itself has the potential to be more valuable than you realize, or more trouble than it's worth. That's why it's important to ask a lot of questions of your agent, to ensure that you have the information you need to know about the property before you make an offer.
Of course, all land is a little different. So these are some basic questions to ensure you are as well-educated as possible about the property, and have the chance to catch any problems that might be an issue before you sign anything.
Has the land been surveyed recently? Were the boundary lines marked?
Are there any utilities available, either on the property or available at the road? Includes electric, water & sewer, well & septic, etc.
What is access to the property like? Easements, seasonal roads, etc.
What are the neighbors like? Have there been any disputes over property lines?
Does the property include water features such as a lake access, river frontage, creek or pond?
Are there areas that are seasonally wet?
Are there any areas that must be left open – i.e. fire roads, utility company easements, public trails, etc.?
Are there any known environmental issues with the property, or environmental restrictions?
Legal
What is the zoning for the property? Is there anything a buyer needs to be aware of? Are there any prohibitions or special exemptions for the property?
Is the property subject to any other rules & restrictions, such as a Homeowners Association?
Are you aware of any development plans for adjoining properties, or that would affect use of the property (views, access, etc.)?
Are there any current lease obligations on the property? These could include rental of buildings on the land, farmland rental, hunting leases, etc.
Sale Conditions
Do you know why the owner is selling?
Is there a clear title on the property?
Is the seller willing to finance?
How flexible is the seller on the price?
What are the current property taxes? Any other yearly fees?
How soon can the seller close on the property?
Is there anything not included with the property? Fences, outbuildings, etc.
Are there any mineral rights included in the purchase? Is there any value in minerals, timber, wind, gas, mining, etc. on the property?
Not all questions may apply to the land you're looking at, and your Realtor® may not be able to answer all these questions, but should be able to help you find out answers to most. By asking and getting answers to most of these questions, you are well on your way to making an informed decision as a property buyer!